Michael bochmann
"Michael Bochmann has an exquisitely lyrical tone and he treated us to an endless flow of golden melody." - Daily Telegraph
About Michael
Contact
About michael
Michael is a violinist and music education entrepreneur. In 2019 as well as his many performances he headed a music project in Iraq with the Yazidi people and through Water City Music headed a children's music festival at the Tower of London. He is committed to music diversity in all its forms.
Since the early 1970s, Michael has made a significant contribution to the world of classical music through performances, media and education. In recognition of his services to music, he was awarded an MBE in the 2015 Queen's Birthday honours list.
He made his first broadcasts for the BBC at the age of 19 and numerous recordings thereafter. Aged 18, he was a prize winner in the Carl Flesch (London) and Jacques Thibaud (Paris) international violin competitions. The Bochmann String Quartet, which he formed soon after this, was in the spotlights for 25 years.
Michael's many associations with Yehudi Menuhin began with a BBC2 masterclass broadcast. They later performed the Bach Double Concerto together including during a tour of 16 concerts in the US.
For a short time Michael played with the Academy of St Martin in the Fields and later led the English String Orchestra for 25 years. He now directs Orchestra Pro Anima.
He has always had a strong interest in education and inspiring young people, regularly involving them in his concerts. In 2009 he formed Water City Music in partnership with Lord Mawson of Bromley-By-Bow. In its first year it put on 15 events in East London. Forming the Water City Orchestra he was part of the BBC1 series following 15 lives to the 2012 Olympics. In 2013 he worked in partnership with the Tower of London to create "Water City Music at the Tower". By 2019 it had gained such momentum that 1800 children performed at the Tower in a single week. In the same year, WCM initiated the musical wing of the "Tall Ships Adventure Festival" at the Gloucester Docks, in partnership with Gloucester Marketing and Gloucester Academy of Music.
Alongside these events is the development of "Oasis Concerts" in Southwark and Greenwich.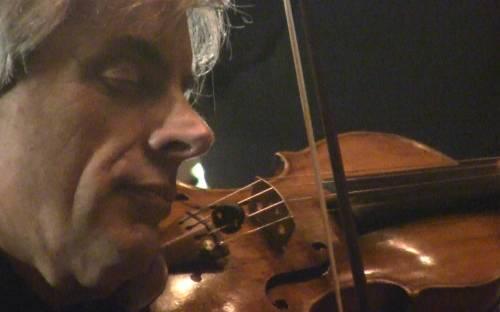 Solo
The famous pianist, conductor and great musician George Hadjinikos wrote of Michael: "A musician, who by insisting on drawing humbly from the well of life and nature, is continuously perceptive and has ever more to offer".
Michael is asked to perform on both a national and international basis. His great musical skill is complimented by his excellent communication skills which make him a popular and accessible performer. He enjoys adapting to a wide variety of performance venues: from playing in world-class concert halls, to performing at care homes for the elderly and working with young people.
On "The Lark Ascending" by Vaughan Williams: "Bochmann plays it with unaffected ease and a natural appreciation of its poetry. His tone is pure and steady even at the stratospheric height to which the lark takes him." – Penguin Guide to CDs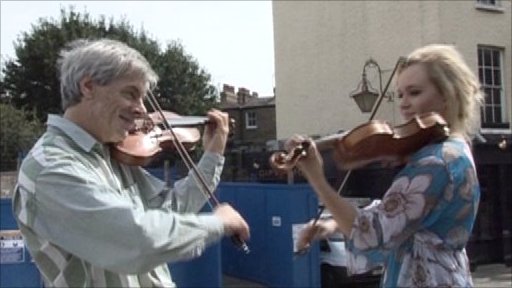 Collaborative
Sir Yehudi Menuhin said of Michael: "Michael's great expertise lies not only in his chamber music but also in his long and effective experience in leading, coaching and bringing ensembles – small and large – to a high degree of perfection and expressiveness. There is no-one I could recommend for this task with greater conviction that I do Michael Bochmann".
Michael, most notably among his many collaborations, founded the Bochmann String Quartet, which broadcast regularly, and was for many years concertmaster of the English String Orchestra. He has enjoyed numerous creative collaborations (performing and making recordings) with fellow musical partners including Michael Blackmore (piano), David Watkins (harp) and Adam Khan (guitar). Michael is also a Patron of Live Music Now, Cirencester Recorded Music Society, South Birmingham Sinfonia and Chamber Music at Worcester. He has initiated many new concert series including Worcester, Stow-on-the-Wold, Chipping Norton and Burford, St George the Martyr, Southwark in London, Malvern and Tewkesbury. The Burford series, Lenthall concerts, recently performed its 150th concert.
He collaborated  to create the Orchestra Pro Anima in 2017 which performs regularly, principally in the Midlands, UK.
He has for a number of years collaborated with the German Violinist, Bernd Müller, in performances with Klanglust in Fürth.
Michael is a professor of violin and chamber music at Trinity Laban Conservatoire of Music and Dance. However, his interest in musical education extends far outside this important role. Michael is an expert in looking at the field of musical education from an inspirational viewpoint and is constantly challenging the old models. He has initiated many ground-breaking and pioneering educational trials that have generated excellent results. He has excelled in creating dynamic and inclusive learning environments for young musicians. He specializes in nurturing talent. He has inspired many to become professional musicians and pursue careers in music. Michael excels at successfully teaching music through an inter-disciplinary approach, which embraces and connects in particular with the Visual Arts.
He has also taken classes in Mexico, Germany, Thailand, Slovenia, Italy, Spain, USA.
Workshops
Michael has instigated and given regular workshops and master-classes in London, Worcestershire & Gloucestershire in particular. Together with his wife, he hosts master-classes and residential courses in the Cotswolds for music students, young professionals and advanced amateurs. The dates and duration of courses are arranged according to mutual convenience throughout the year.
The Bochmanns have an on-going scheme that provides bursaries on a regular basis for under- and post-graduates and that offer frequent performance opportunities. Their initiative of taking classical music workshops into schools has now been running for over 2 decades. If you are interested in attending or sponsoring a course for chamber music or for solo violin, please contact Gina Bochmann for further information, using the contact page.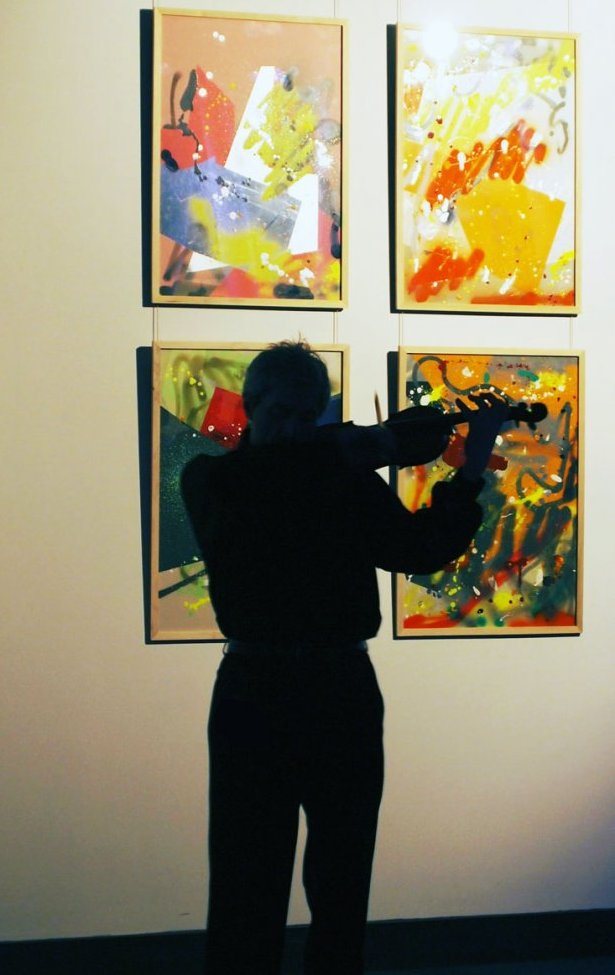 Entrepreneurship
Michael believes that professional, skilled musicians should interact with young musicians and be a central part of musical education; he fosters and encourages these vital relationships between students, children, amateurs and professionals. He is actively involved in a personal 'hands on' role in flourishing practical projects. He successfully initiates, manages, and performs in high quality musical events across the country with few resources in both rural and urban communities.
In 2013 he initiated a programme bringing children from East London to the Tower of London to perform music to the public queuing to see the crown jewels. In 2016 this grew into a major event, Water City Music at the Tower. In 2019, 1800 children performed. The events feature three performance areas and include a choir and instrumental groups from 22 London Boroughs.
Alongside the Festival at the Tower, Water City Music started the Oasis concert series at St George the Martyr, Southwark,  and Charlton House in Greenwich.
The WCM programme has now spread to Gloucester where in May 2019 a partnership with Gloucester Marketing and Gloucester Academy of Music staged an ongoing young people's event at Gloucester Docks as part of the Tall Ships Adventure. 300 young people and professionals performed to 60,000 public.
Are you a professional musician, musical student, or amateur musician? Would you be interested in becoming involved with some of Michael's more entrepreneurial projects, learning practical skills that are essential for all musicians, and furthering your involvement in the world of U.K. classical music? If so, please use the contact page to tell Michael.
First ever performance of John Foulds String Trio played by The Bochmann Trio at Cheltenham's Chapel Arts Centre
Professor Michael Bochmann